For golf enthusiasts visiting Phuket, this tropical paradise is not just about teeing off on lush greens; it's an opportunity to explore a world of adventure beyond the golf course. In this comprehensive guide, we'll unveil five must-try activities that will add depth and excitement to your golf vacation in Phuket. Additionally, we'll show you how Phuket Golf Leisure can expertly arrange these experiences for you, enhancing your stay in every way.
Here is a list of 5 Must-Try Activities for Golf Enthusiasts in Phuket
1. Explore Phang Nga Bay: Nature's Canvas
Phang Nga Bay, with its emerald-green waters and towering limestone karsts, is a natural marvel that will take your breath away. What sets it apart is James Bond Island, the iconic setting for "The Man with the Golden Gun." These limestone formations that pierce the water's surface create a surreal, cinematic backdrop.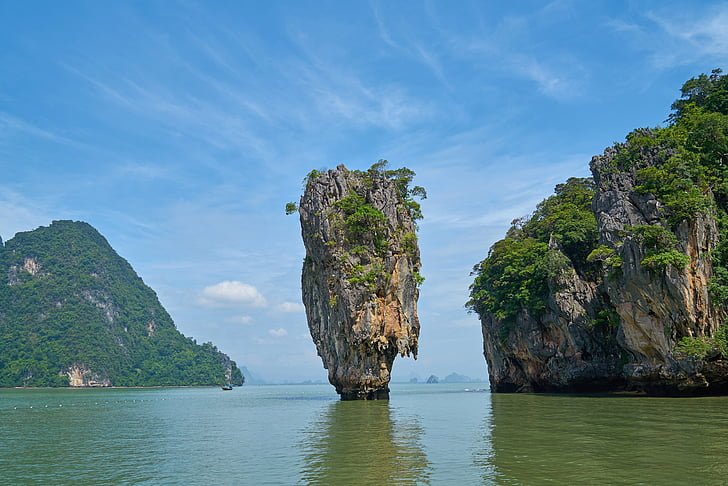 Interesting Fact: Nestled within Phang Nga Bay is the floating Muslim fishing village of Koh Panyi. This vibrant community lives entirely on stilts, offering a fascinating insight into an unconventional way of life in an extraordinary setting.
Embarking on a boat tour in Phang Nga Bay is an adventure you won't want to miss. Navigate through hidden lagoons and absorb the extraordinary beauty that has made this bay famous worldwide.
2. Discover Phi Phi Islands: Tropical Paradise Awaits
The Phi Phi Islands, with their crystalline waters and untouched beaches, are a tropical haven. These islands made a cameo in the movie "The Beach," starring Leonardo DiCaprio, which is a testament to their breathtaking beauty. If you're a golfer looking for underwater exploration, you're in the right place.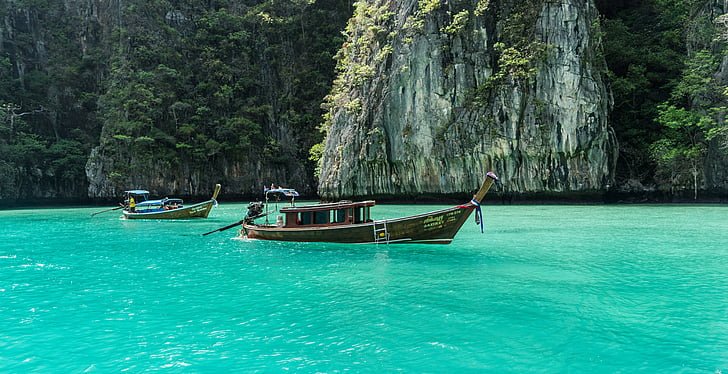 Interesting  Fact: The Phi Phi Islands are part of a marine national park, preserving their natural splendor. The vibrant coral reefs here host an array of marine species, creating a snorkeler's paradise.
Your day trip to the Phi Phi Islands will be filled with snorkeling adventures and moments of serenity on the sandy shores.
3. Visit the Big Buddha: A Spiritual Icon
The Big Buddha of Phuket, situated atop Nakkerd Hill, is a cultural and spiritual icon that commands attention. This grand white marble statue, standing tall at 45 meters, offers panoramic views of the island. What's remarkable about this site is that it was entirely funded by donations from local residents and tourists, underlining its profound spiritual importance.
Interesting Fact: The marble used to construct the Big Buddha was sourced from Myanmar, and it took over a decade to complete this magnificent statue.
A visit to the Big Buddha offers a serene, contemplative experience as you take in the majestic sight against a lush green backdrop.
4. Experience Old Phuket Town: A Tapestry of Culture
Old Phuket Town is a delightful blend of cultures and history. The charming streets are adorned with vibrant Sino-Portuguese architecture, captivating street art, and charming cafes. This area's architecture reflects the fusion of Chinese and Portuguese influences, harking back to Phuket's days as a bustling trading port.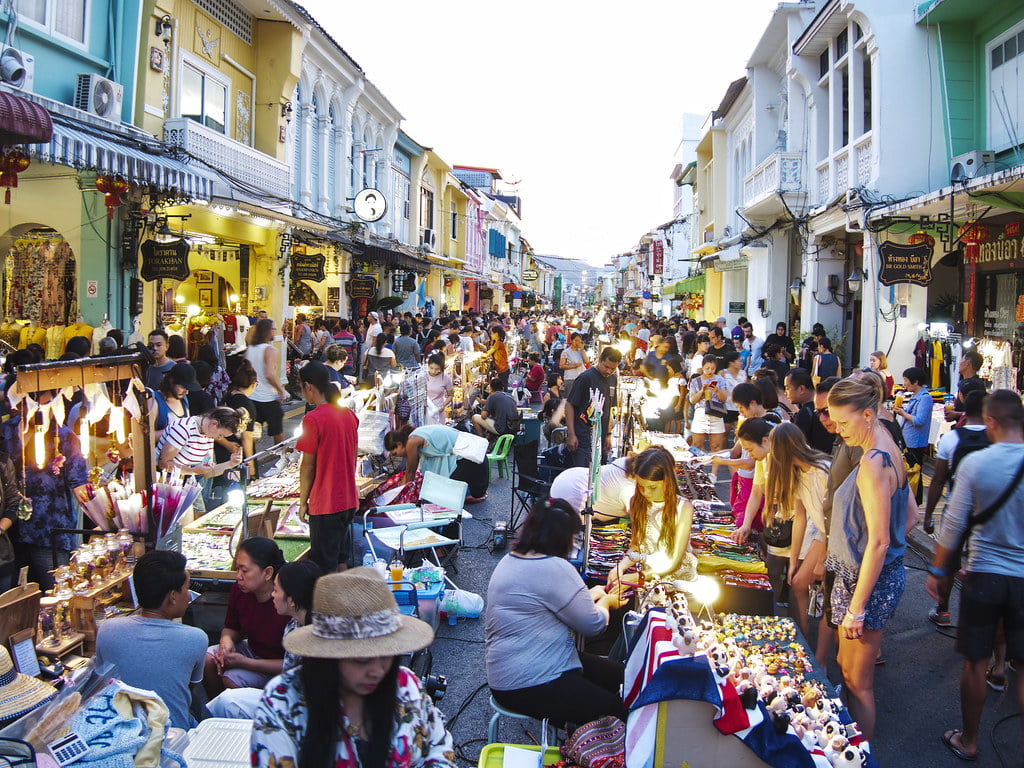 Interesting  Fact: The Sino-Portuguese architecture in Old Phuket Town features intricate wooden shutters and an array of vivid colors, creating an aesthetically picturesque atmosphere.
A leisurely stroll through these streets allows you to sample local cuisine and explore unique shops, offering a glimpse into the island's rich heritage.
5. Enjoy Water Sports at Patong Beach: Thrills by the Sea
Patong Beach is the bustling epicenter of Phuket's vibrant nightlife and water sports scene. This beach offers a diverse range of activities, including jet-skiing, parasailing, and even the opportunity to ride the waves on a surfboard. The azure waters of the Andaman Sea beckon you to dive into the excitement.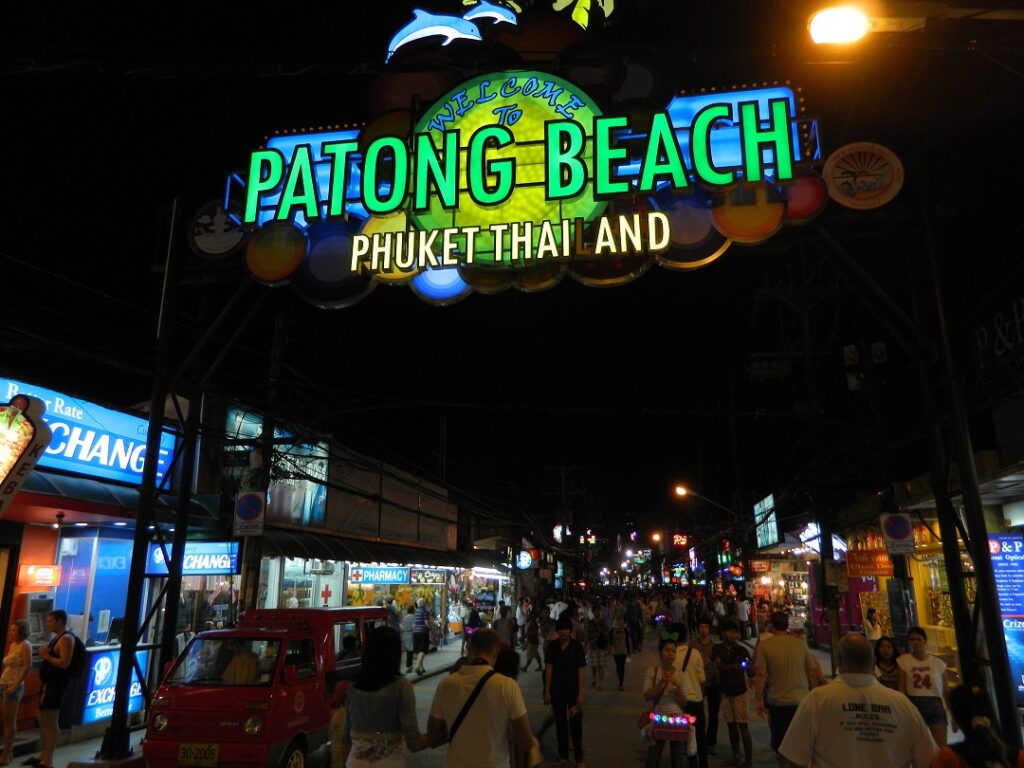 Interesting Fact: Patong Beach hosts a lively night market that comes to life in the evenings, offering an array of street food and shopping options, creating a vibrant, bustling atmosphere.
Golf enthusiasts seeking an adrenaline rush can have their fill at Patong Beach, where the thrills never cease.
In conclusion, Phuket is a realm of possibilities for golf enthusiasts, offering world-class golfing and a kaleidoscope of off-course adventures. With Phuket Golf Leisure as your trusted partner, your golf vacation transcends expectations. We tailor your activities to complement your time on the golf course, ensuring every moment of your trip is remarkable. Whether you're exploring natural wonders, tropical paradises, cultural gems, or thrilling watersports, Phuket's diverse offerings will leave you enchanted. For more information, you may want to visit our page for Golf tours and activities in Phuket.
Reach out to Phuket Golf Leisure now to embark on an unforgettable golf vacation in the 'Pearl of the Andaman.' Adventure awaits, both on the greens and off. Your journey to a golfing paradise with a touch of excitement begins here!